ETC Introduces the ColorSource Spot
By Wes Bailey on Jun 30, 2015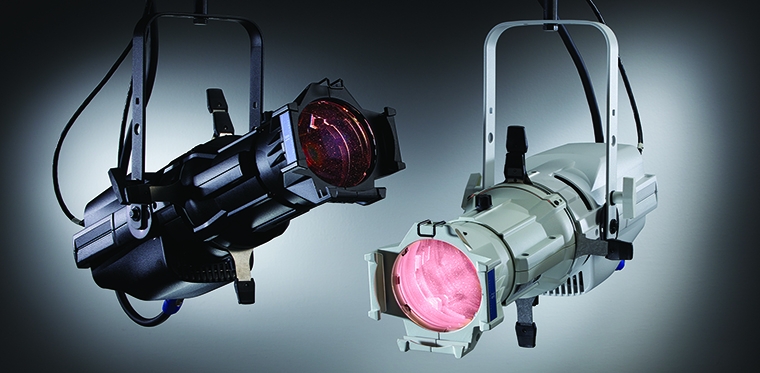 Interested in adding LED Lekos to your stage, but your budget doesn't agree with you? If you're a smaller venue such as a local school or church, the new ColorSource Spot from ETC may be the option you're looking for. It works with every ETC lens barrel you already own, and can also be used with Source Four LED Cyc and Fresnel adapters. Huzzah, versatility!
So how is the ColorSource Spot different from the ETC Series 2 Lustr LED you ask? The Lustr packs a seven-color LED emitter mix (red, lime, amber, green, cyan, blue, and indigo) while the ColorSource Spot uses four colors (the standard red, green, blue, and ETC's secret weapon, lime). So while the Lustr may be the peak of LED Leko color rendering, ETC assures us that the ColorSource Spot should outperform typical 4-color LED fixtures without a problem. You'll also miss out on a few of the functions and features that the user interface of the Lustr provides.
Overall though, if you've been pining for Lustrs but have been unable to afford the price tag, the ColorSource Spot seems like a worthy substitute! Stay tuned for more on this fixture, and read more about it from the official ETC release below:
Developed by color experts, manufactured at ETC's Wisconsin-based headquarters, and supported by an award-winning commitment to service, this cost-conscious spotlight can upgrade the inventories of small venues like schools, houses of worship, and local theaters without a large price tag.
Incorporating red, blue, green and lime emitters, ColorSource Spot delivers a color range that outshines other budget LEDs. "The color is what sets it apart," explains ETC Fixtures Product Manager Jim Uphoff. "Compared to RGB fixtures or RGB with amber or white, ColorSource Spot establishes a new benchmark. We're redefining the concept of 'cheap LEDs' by offering brightness and color quality at a price point that others simply can't match."
ETC tests every luminaire to rigorous standards, ensuring color consistency from one fixture to the next. And while most LEDs see their color degrade over the course of a show due to heat, ColorSource Spot was designed to compensate for thermal droop, giving you color you can count on, from your first cue to curtain call.
And color is just the start. ColorSource Spot is also easy to use, with a simple user interface on the rear of the fixture that lets you set it up quickly and have it shining in seconds, with or without a control console. It is RDM capable and the rugged design ensures a long life in your inventory. ETC also added the ability to outfit these new profiles with existing accessories. "Versatility is always a plus," explains ETC Entertainment Market Manager Matt Armendariz-Kerr, "so we designed ColorSource Spot to accept our Source Four LED Fresnel and CYC adapters, expanding its capabilities even more."
Here's a video from ETC giving you a first-look at the ColorSource Spot:
These are available to purchase here.