Award-Winning Elation Sniper Now Shipping
By Wes Bailey on Oct 28, 2014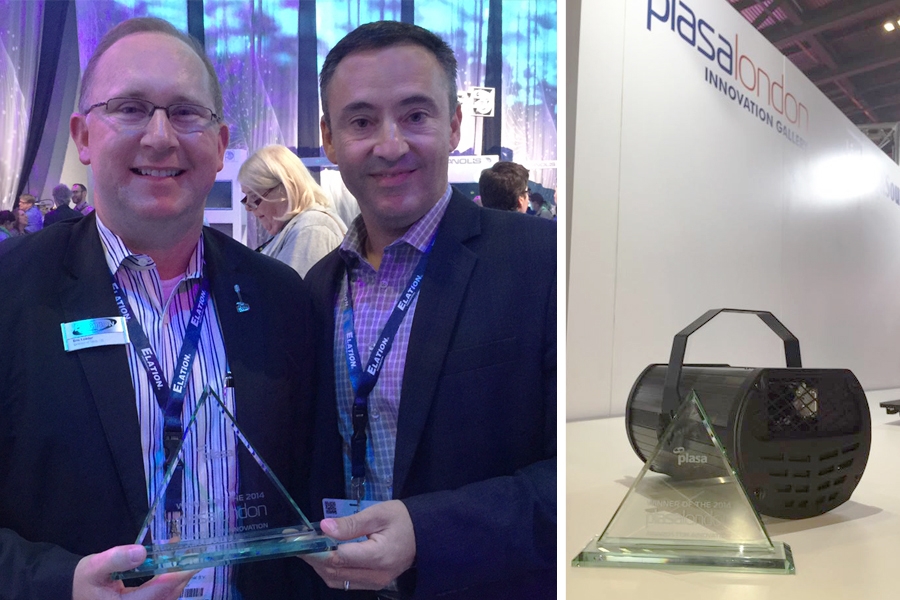 Is it a laser? No. Does it look like a laser? Yes. Can it do a lot of other cool things? Definitely.
Our initial assessment of the new Elation Sniper was shared by those judging the 2014 Plasa Awards. The fixture took home an Award for Innovation for its innovative technology and new approach to hybrid lighting.
The judges commended the Sniper, stating, "The Sniper beam light, scanner, and laser simulator adds a unique effect to the lighting toolbox. It fills a gap in the market for a huge number of venues that won't spend top dollar, Euro, or Pound but need great effects lighting. It also sidesteps the issue of laser regulations by simulating laser effects without actually using a laser source. Its small size is an added bonus and it's priced affordably."
Elation Sales Director Eric Loader and Elation President Toby Velazquez were on hand to accept the award.
"This only adds to the anticipation and excitement we have had in the Sniper from the moment we turned on the first prototype," Eric Loader commented. "PLASA was a very positive show for us and has continued the momentum. The Sniper is a very unique product that LDs are discovering can offer something new and the PLASA award is really an endorsement of that."
Want to add the Sniper to your lighting toolbox? You can find it here available for purchase.