JimOnLight: 5 Tips for Designing a Trade Show Booth
By Jim Hutchison on Sep 11, 2014

Today we're joined in the Lighting Lounge by Jim Hutchison of JimOnLight.com as well as Chauvet Pro! In addition to being one of the foremost industry voices in the blogosphere for many years, Jim is an accomplished LD and programmer who currently handles all of the lighting designs for Chauvet Professional's booths at LDI, Infocomm, and many more. Take it away Jim!
Hello, lighting industry! I'm Jim Hutchison, creator of JimOnLight.com and a lighting designer/programmer in our beloved industry. I'm also the Customer Engagement and Education Manager for CHAUVET Professional, and the guy who designs the PRO booths for the company. That's why I'm here today – to talk about designing TRADE SHOW BOOTHS!
Designing a trade show booth for a company is a lot like designing a store, a concert, a theatrical production, a ballet, and an opera all at the same time. Oh, don't forget that you also have to design in a marketing campaign in there too, so there is that! But don't worry… here's five things that will help you in the future in designing big, beautiful, and more importantly, EFFECTIVE trade show booths!
#1: IT'S NOT ABOUT YOU!
Let's start with the most important thing that there is to remember about being a lighting designer for a trade show stand: IT'S NOT ABOUT YOU, GREEDY LD! When you're designing a booth for a company, even if that company has the baddest, biggest baller light that there ever was, your job is not to accentuate how clever you are or how talented of a programmer you are, it's simply to show how great that new fixture from Company DeJour is and how it's going to change the market. That's really your gig. If you can't adapt and become chameleonic enough to bend yourself around the products (that's right, I invented that word chameleonic), then you should probably go somewhere that you can be your own King or Queen. You're not gonna hang in this world.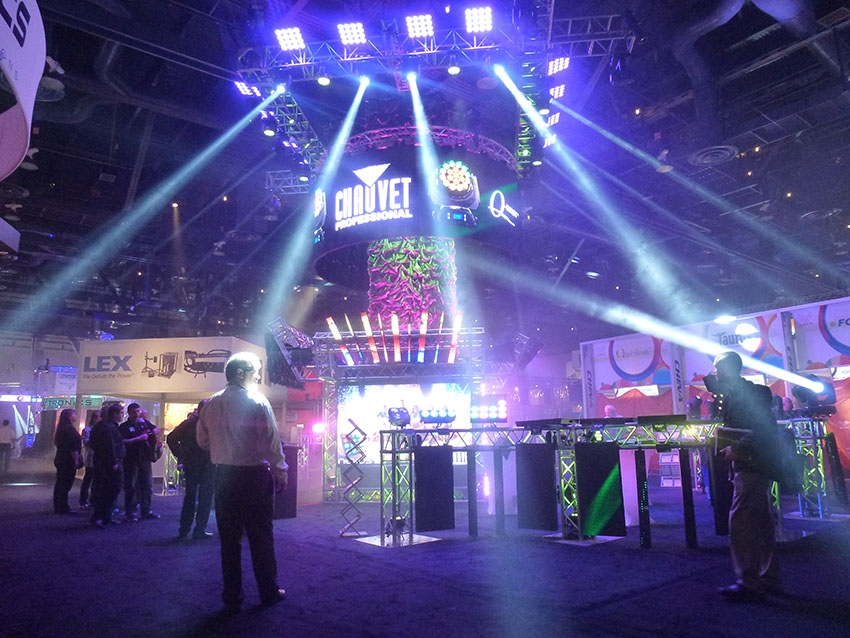 #2: Got a Theatre Design degree? You're EXCELLENT for Trade Show Design!
Are you a purveyor of light who learned more about lumens for the stage? Believe it or not, you're very, very qualified to work on trade show booth design. Generally, designing a trade show is more like a theatrical event than a concert based on the needs of so many different teams on the show floor. Sales needs stuff, marketing needs stuff, the manufacturers' reps need stuff, and among all of that need, you also have to make a pretty show for the company. It's not hard to do, but it's not easy to do well!
#3: Not a programmer? GET A PROGRAMER. You don't have time.
There are people out there who can learn a new desk in about eleventeen minutes. There are a lot of people out there too who are unbelievably creative and talented that, when placed in front of a surface they don't know stare at it like an inexperienced stagehand at Monkey's Fist knot. If you're one of the latter and you have to get your booth programmed, call someone who doesn't suck at it. You don't have time between 7pm and 7am when we're usually programming our booths to pretend you know what's up with the desk you chose. This is varsity, people! Go ahead and try it out if you think I'm over-exaggerating. Let me know!
#4: THEY don't have to be MOVING all the time, but YOU have to be MOVING!
One of the best pieces of advice I ever received… when you have moving heads on a trade show booth, they do not have to be wiggling for maximum effectiveness. As a matter of fact, you might just have a pretty fantastically stunning booth if you can master the balance of wiggling lights and not wiggling the lights, you're going to have a whole heck of a lot of people coming to find out where all of this beautiful light is emanating from on the floor. Work on your aerials, make sure your coverage is tight, and try a combination of slow and fast moves that really accentuate the features in the fixtures you're using. That's the task at hand.
#5: Every bit of your design costs money, and lots!
If you've never worked in trade shows before, get ready to be stunned right directly to stupidity with the costs associated with places like Las Vegas Convention Center and Anaheim Convention Center, places where lots of trade shows take place. Moscone Center in San Francisco is one of the most expensive places to do a show in America, for example – these places charge you to get your gear from the dock to the booth space, then there's high costs per rigging point, stagehands are not cheap (nor should they be, frankly) and you pay again to get your kit from the booth to the truck. The costs just keep on coming, like the hits! All of those costs add up, and quick. A lot of trade show booths have monster budgets, and it's because of the reality of that business.
I hope this has helped a little – stay tuned for more to come!
| | | |
| --- | --- | --- |
| | | Jim Hutchison is the creator of JimOnLight.com, as well as the Director of Education and Customer Engagement at Chauvet Pro. You can see more of his designs and tutorials at the Chauvet Pro Blog |