Contest - Win A Backpack Full of Swag!
By Luke Lytle on Apr 24, 2015

UPDATE: The correct answer was 12, Clay Paky Sharpy Wash Fixtures! Here is the full video.
An email will be sent out to the winners with directions on claiming your prizes. We will do another contest next month thanks to those who participated!
Winners:
1st Place: Joshua Tingle
2nd Place: Brian Leatherby, Nico Stone, and Joey Welden
3rd Place: Robin Lambert, Chris Cockrill, Mitch Smith

---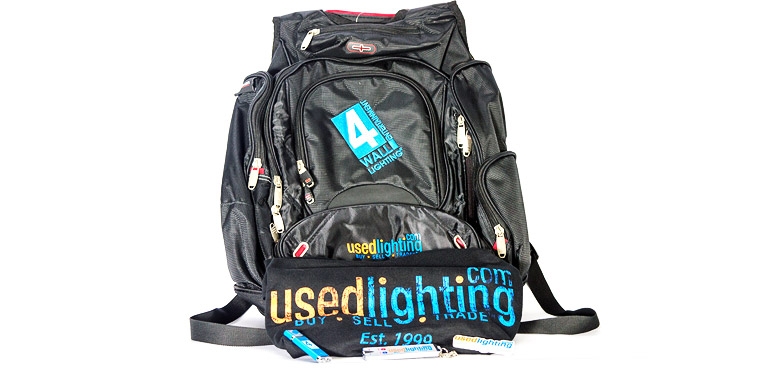 Who is up for a contest?! We're going to keep it simple. Watch the 10 second video and then send an email to contest@usedlighting.com (one submission only) with the answer to these two questions:
1) What fixture is in the video (Manufacturer and Name)
2) How many fixtures were used in the video (not a trick question)
The contest will end next monday (04/27/15) at noon PST, and the full video and winners will be released then on this page. The winners will also be notified via email.

Here are the prizes:
1st Place) TSA Checkpoint Friendly Backpack - Fits up to a 17" laptop. The backpack will be filled with a t-shirt, flash drives, laser pointer, and more. One person who gets both questions right will be randomly chosen to win this prize.
2nd Place) UsedLighting.com T-shirt, 4Wall Flash Drive and UsedLighting.com Flash Drive. Three people who answer one of the two questions correctly will be randomly chosen to win this prize.
3rd Place) A 10% off digital coupon for anything on NewLighting.com - That could be gel, tape, gobos, LEDs, Moving Lights, Consoles, etc. Three people who submit an email will randomly be chosen to win this prize.
(Hint: It's a moving light from 4Wall's rental inventory, which you can browse HERE.)