Taylor: LED Ellipsoidals in Ballet and Dance
By Clifton Taylor on Mar 31, 2015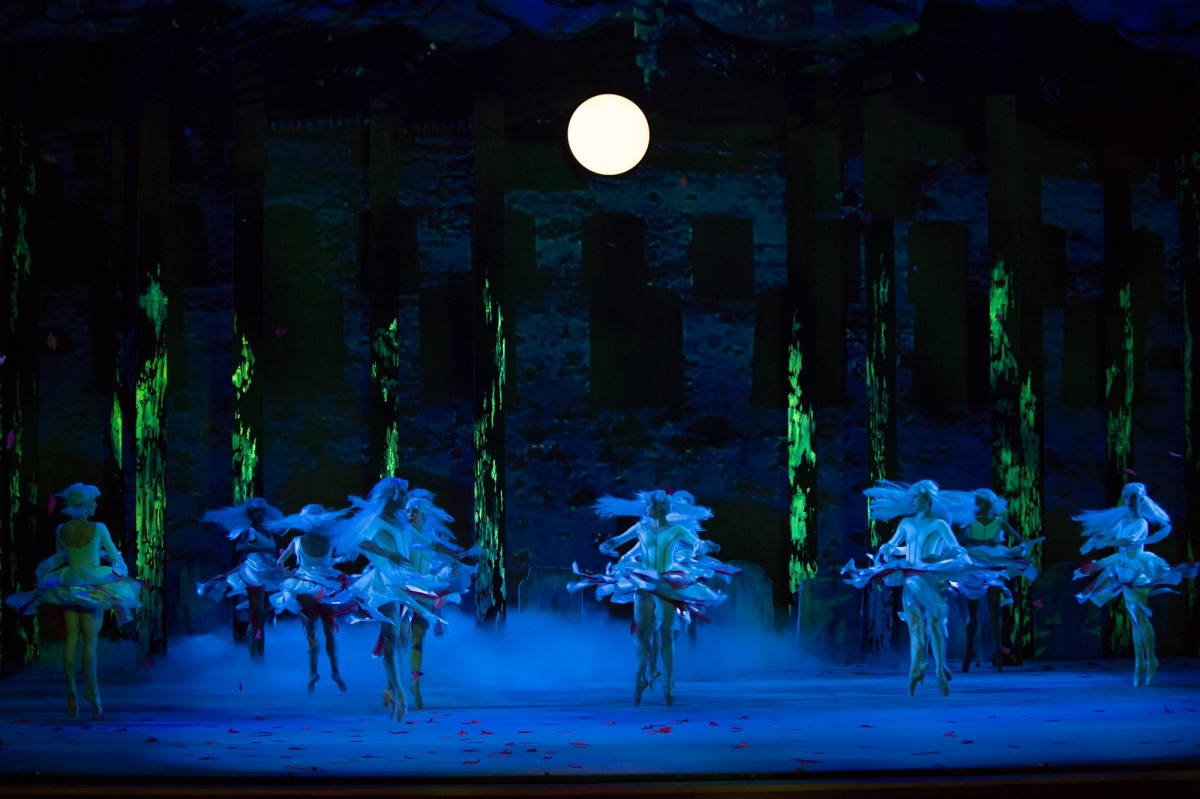 Ed. Note: We're joined in the Lounge this week by Lighting Designer Clifton Taylor, whose innovative designs for Opera and Ballet have appeared on Broadway and around the world. On a recent production of 'Sleepy Hollow' for the Washington Ballet, Taylor utilized ETC Source Four LED Series 2 Lustr luminaires. In doing so, he spent some time pondering what the change to LED means specifically for historical works of lighting design- and what the consequences and benefits may be. He was gracious enough to share those thoughts with us here!
I have been somewhat skeptical of the LED Ellipsoidal craze that has been going on for a couple of reasons. First, I felt that the series one Lustrs were not yet bright enough to be used as a replacement leko. Second, and this remains a huge issue for all LED based fixtures, I'm wary of replacing incandescent fixtures, especially in dance plots with LED's because we don't have enough information about their performance yet.
Let me give you an example: A Source 4 Ellipsoidal with no gel in it at 575 watts is still a bit brighter than Series 2 Lustr set to project a no-color equivalent mix.
However, if you put Roscolux 80 in front of the incandescent fixture, the same Series 2 Lustr will be much brighter when set to a mixed color equivalent.
This makes maintaining older works very difficult, because the level trackings from the incandescent equipment don't make any sense when deep blue is brighter than clear!
| | |
| --- | --- |
| | Taylor's Sleepy Hollow Featuring Lustr Luminaires |
Before we make this change fully, let us consider that at this moment in the theater, we can pretty successfully reproduce the design work of Jean Rosenthal or Tom Skelton by getting out the gels and setting the levels to the old paperwork. The stage might be relatively brighter, but the relationships remain comprehensible.
Even with the changes that have happened to brightness levels and efficiency of lenses and reflectors, the essence of the design would transfer through the years to anyone who faithfully followed the instructions of the original design paperwork.
This sort of faithful recreation becomes impossible with LEDs because the levels don't have the same relationship to colors that existed in an entire class of incandescent fixtures from the past 100 years.
Of course not everyone is involved in re-creating older works, but I often am. The ballet and dance companies around the world are the best repository to see original lighting designs from the past, and these complex works of art were created with a technology, color filters and incandescent lights, that is not easily replaced by the new technology, light emitting diodes.
I don't want to lose these great works of art that have been given to us by real pioneers of theatrical design and I think we should all be talking about this issue in greater depth before we rush into the latest shiny toys. So I bring these lights into a dance plot (such as Sleepy Hollow) with more than a little trepidation, because not everyone who is now or will be in the future maintaining these lighting designs will have considered these problems or have the tools to solve them.
That said, the LED light is here to stay and I believe it will eventually supplant incandescent lamps completely in the same way that incandescent lamps supplanted gas light.
Even now, on the cusp of this revolution, they are an extremely important tool for us, and there is much to love about them. The Series 2 Lustr especially is a beautiful light, and on a new production like this one it offers so much flexibility in color choices and also color transitions. Especially on an event like this, where we wrote this extremely complex show in basically one-and-a-half very pressured days, a tool like the Series 2 Lustr is really amazingly helpful.
In this show, I used them in two positions: the first was the high shin position (second from the bottom), which I often like to use for deeper color ideas. I didn't want it for the lowest shin position because I was concerned about color rendering - especially in this schedule where I don't have any time to really play with the level of each emitter like I would like to get the right color metamer at each moment of the show.
I also used them in a high boom position, which is so important to any large scale ballet because it allows one to get sidelight over the heads of the corps de ballet onto the middle of the stage where the principals are dancing. In this case also, because we had a relatively light grey floor, this high boom position was very useful to use to color the floor for each scene. In other productions and I have asked for a scroller or CXI system here and the Lustrs were a perfect and more versatile substitute.
I'm a little afraid of the possibility that when this particular production gets rented out and I might be asked to go back to having scrollers in these two positions, but we'll deal with that problem when it comes up! The Series 2 Lustr is a wonderful tool and I will want them going forward on a lot of shows.
| | | |
| --- | --- | --- |
| | | Clifton Taylor has created lighting, projection, and scenic designs for theater, dance, and opera companies around the world. His Broadway credits include "Frozen" and "Hot Feet", and his designs have been commissioned by repertories such as Alvin Ailey American Dance Theatre and the Rambert Dance Company of London. More information can be found on his official site here. |